Pentium powered computers paired with the latest graphics software reproduce your most complex ideas. Your letters and logos are then routed with either cnc MACHINERY or WATERJET CUT.
Waterjet cut letters and logos are made using a fine, high pressure stream of water that carries an abrasive mineral. This fine stream cuts and allows for sharp inside corners, intricate detail on logos, and letters under 2" high.
Router cut letters and logos are mechanically routed out of flat metal stock. Based on the material thickness and letter size, a 1/8"-1/4" router bit will be used. As a result, inside corners will have a slight radius.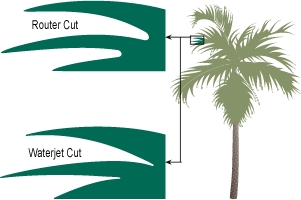 Both methods of cutting allow the same surface finishes after being cut.